Shipping: Manitoba from a shipper's perspective
Having a cargo to ship, you need to get answers to a lot of questions. Well, actually just five of them: what, where, how, when and how much. Although they lead to so more questions, that one might find a bit too overwhelming. Fortunately, Transportation Services.Ca is just a call away to answer them all: 1-866-737-7117 (free toll-number).
So, you need to have a freight transported to Manitoba. Or, you need to have it shipped from Manitoba. Does Transportation Services.Ca deliver…?
Question No 1: What?
Any cargo.
Heavy haul, bulk materials, hazardous materials, building materials, livestock, food, produce, LTL, equipment – you get the idea.
Question No 2: Where?
Over the road: ship between Manitoba cities. Briefly, Transportation Services.Ca covers the territory of Canada: Ontario, Quebec, Manitoba, Saskatchewan, Alberta, British Columbia and New Brunswick; and the U.S.
Shipping from and to the rest of Canada and international shipping to Manitoba are easy for you with the company's freight broker and forwarder services. The difference between them is that freight brokers act solely as intermediary without actually taking cargo in its possession, while forwarders take on loads, consolidate items, perform transfer and distribution.
Question No 3: How?
Trucks. Transportation Services.Ca is an asset based company, owning a fleet of trucks. The carrier's flatbeds, reefers and vans ride the roads of Canada and the USA.
Via rail. This method of cargo transfer may be the most cost efficient, when dealing with bulk material. Rail freight rates are commonly lower, than other means of shipping. Call to check
Combination. Intermodal shipping connects different kinds of transport into one delivery process. Freight containers (large steel boxes) can be transferred from truck to rail to ship, or in any other order, without unloading and reloading them. It saves the day, when, for example, cargo location has no direct access to rail.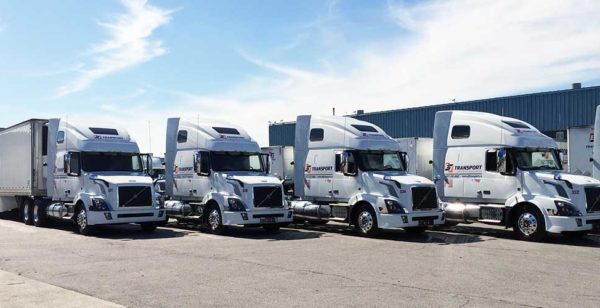 Question No 4: When?
On time. In time pressing situations, use expedited trucking service. In order to deliver freight ASAP avoidable stops and transfers are crossed out from transportation schedule. Get a free instant quote: 1-866-737-7117. Overnight shipping? Yes, Transportation Services.Ca does that too.
Question No 5: How much?
This one is the easiest of all. Call 1-866-737-7117 to get a free instant rate, or fill in the request form online. While delivering goods, Transportation Services.Ca has covered an immense number of miles. This allows the company to come up wtih optimal solutions for each case, and that enables Transportation Services.Ca to offer optimal freight rates.
Transportation Services.Ca is an authorized and licensed carrier with a high level of professionalism, abiding by all regulations. The company is both US and Canadian Bonded, C TPAT, and Hazmat certified.
Other services offered in Manitoba: