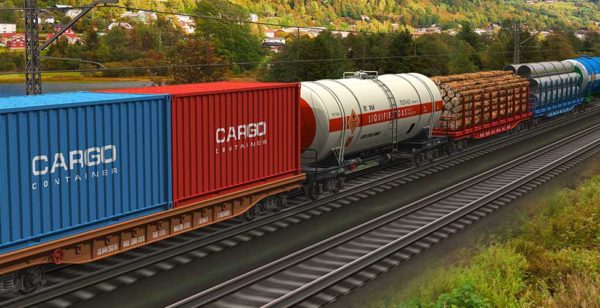 Rail transportation incorporates the use of rail companies, rail freight companies and rail trucking. Utilizing special containers or trailers which allow commodities to be moved directly from one mode of transportation to another without having to be repackaged,rail freight shipping and rail freight transportation is a very effective method of shipping. Companies use rail shipping and rail services to move freight in the most efficient, timely, cost effective and environmentally friendly manner. Rail rates are often a cheaper alternative to traditional transportation methods. Transportation Services uses the following transportation modes in rail shipping: trucks, railroad, steamship lines, ocean carriers, and airplanes. We are able to handle any shipment from your most basic shipment to even special commodities which require temp controlled rail service. Transportation services is a leading inter modal freight carrier, and is always striving to be your choice for intermodal companies.
Advantages
Rail services can haul more cargo at one time than a single truck, which makes rail far more efficient than trucks to move large loads. Using freight trains to haul goods also significantly reduces the amount of greenhouse emissions. Though trains cannot be used in "door-to-door" delivery and have less scheduling flexibility than trucks, Transportation Services combines the best attributes of both rail and trucks to provide timely and cost effective rail shipping. With rail shipments, you are guaranteed that your container will go directly from rail freight transportation systems onto trucks, without any off-loading in between. Rail trucking in Canada is one of the most efficient forms of over the road transportation. Right in our own backyard, Transportation Services is considered a leader in rail trucking in Toronto is done right. Rail trucking in Toronto and other busy metropolitan areas can be difficult because of the large volume of businesses and people.
Flexibility
There are several other advantages to using rail shipping. One important benefit is the flexibility offered by shipping via rail trucking in Canada. Rail services can be used to transport a wide variety of cargo, including raw materials, manufactured goods, cars, or specialized containers for liquids or perishable items. Rail freight companies often find that with rail freight shipments, there is more control over customer's entire shipping needs. Rather than focusing on a week to week basis which is often the situation with over the road transport, the steady nature of rail service in Canada, allows for greater price control and allows for forward planning. When involved with rail transportation, companies often find that rail services can help them create a clearer picture of what their annual overhead for shipping. Rail rates tend to be a little steadier than trucking rates, because Rail services and rail services are affected by fuel prices as much as trucking services. Furthermore, customers involved in rail freight transportation, find that rail freight shipping helps them book shipments far more in advance than they could with trucking companies. Let Transportation Services help take care of your shipping needs by letting us introduce to you to rail shipping.
Security
One of the greatest concerns for any shipper, no matter how large or small, is the security and integrity of their shipments. Rail Service in Canada and rail trucking in Canada is amongst the most secure in the world. Even in a large city such as Toronto, where crime can be readily apparent, our rail service in Toronto is amongst the safest. This is one way we try to differentiate ourselves from other rail and rail companies; by making sure our guarantee of being one the rail freight carriers who truly cares. Shipping via rail service in Canada also limits the risk of loss and spoilage for the goods it transports. Rail freight shipping is recommended by rail freight companies because the containers are resistant to extreme weather and have the capability to withstand unexpected elements. We have worked with rail companies for many years, and have found that shippers with fragile goods, especially those who require temp controlled rail, are always happy with the security and integrity of their goods while on our rail services. If you are looking for rail service in Toronto or rail service in Canada in general, we will be glad to be your first and last choice.
Special Needs
Individuals and companies interested in working with rail freight carriers are at times hesitant because they worry about their unique or special freight. However, please be rest assured, our Rail Services can handle any freight. Often we hear from produce companies who would like to try using rail freight companies, but are apprehensive to invest into rail services. We guarantee the best temp controlled rail service and will make sure produce arrives fresh and intact. Customers who have time sensitive needs, such as special distribution stores or warehouses, are often hesitant to rail freight transportation. But we tell them, there is no need to worry because with our well integrated rail service that incorporates some of the best rail trucking in Canada, more over, best rail trucking in Toronto, their goods will be delivered on time.
Brokerage Service
If you are having problems finding a rail service for your scheduled shipment, or the rail shipping firm you use on a regular basis has let you down, then turn towards our logistics brokers for help. We can help arrange your shipment to be done within minutes of your request for help. Even if your shipment is time sensitive, or requires temp controlled rail, our brokers can handle it. We have been asked many times, "You really can handle my temp controlled rail needs that fast", and of course our only answer is "Yes". Transportation Services is one of the foremost brokers in operation for rail service in Toronto and rail trucking in Toronto. For any individuals or companies who rely on rail service in Canada or rail freight shipping in general, it is very important to have your shipments go out on a scheduled date and we have a true understanding. What began as one time customers who worked with our brokers for help with their rail freight transportation find our service and rail rates nothing short of excellent, end up turning to us for their full time needs. Our brokers are fast, friendly and efficient and you will not be disappointed with what they offer.
Satisfaction Guaranteed
Whether you require just rail service in Canada or the complete inter modal package, including rail service in Canada we can meet your every need. Our rail rates are amongst the most competitive in the industry and we strive to offer only the best rail shipping service. Transportation Services has a lot of pride concerning how we operate as a rail freight carrier and can offer competitive rail rates from your most basic shipment to even special commodities which require temp controlled rail service. For many years, we have been a leader in offering rail service in Toronto and rail trucking in Toronto. We hope to keep growing every year, and become the undisputed leader in rail service in Canada as well. Transportation Service would love to continue with all its customers and emerge with proud customers every day.