Flat beds

have been quite a task to drive them especially when loaded. In the flatbeds, companies like Transportation Services have to use chains or straps to hold down your load and often times cover the load for protection. Flatbeds carry heavier loads, but they still have difficulties during operation when it even comes to rules and regulations that re required to be followed.
Step decks which are also known as single drops, are acknowledged for carrying freights that are longer in heights because of their design. Nonetheless they face a lot of challenges during transportation like passing under low bridges and tunnels in the cities. Low profile step decks have solved this situation because the tractor and the load you have are far shorter in height than in standard trucks.
Low profile step decks are built and designed in a way they create more room to carry heavier and longer cargo. In low profile step decks, the suspension has been lowered to provide better grip on the road and stability during the equipment shipping or heavy hauling. The low profile step decks also helps the crosswinds go around the truck on slick roads in the winter time.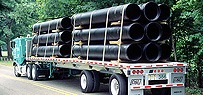 A low profile step deck truck has an elongated body and a cab that is less than half as tall as the trailer with a roof that extends over the cab but attached to the truck at its rearward end. The type of freight varies from delicate, live (animals and such), to wide which all of them have special designed trailers that suits them. For example for live freight, the trailer needs to be perforated for ventilation; dry goods need to be shipped by hollow rectangular trailers and so forth.
Step decks/ single drops are best for moving equipment that would push a four-sided flatbed over height. Low profile step decks are similar to the step decks only the suspension and the tires used are low profile in order to fit for the required jobs. Low profiles step decks are well known for stability and strength during the heavy hauling.
Please call 1-877-742-2999 and get a freight quote.
Currently Providing Flatbed Service in:
Ontario, British Columbia, Manitoba, Quebec, New Brunswick, Nova Scotia, Saskatchewan