The mechanical removable gooseneck trailers are intended to function without hydraulics or winches when it detaching the gooseneck.
Removable goosenecks that are mechanical have lower weights that ensure heavy hauling evaluations to maximize the efficiency of its operation during transit.  RGN's are also referred to as lowboy trailers, beam trailers, single or double drops decks depending on the kind of deck that is attached to the neck or tractor.
The wide variations of RGN's have made them to be the most popular and denoted as the leader of transportation of construction and agriculture related equipment like bulldozers, cranes, prefabricated components of building assembly or tractors and such related equipment. Their low deck design makes the RGN's the perfect mode of transport for heavy haul trucking.
Removable goosenecks sort of resemble a gooseneck, but the term has stuck in the trucking industry where it is meant to define the part of a drop down trailer that connects to a tractor. Goosenecks have become beneficial to drop down trailers that cannot be loaded from a dock, whereby with goosenecks it's now possible because the neck now can be disconnected and the cargo can be driven right on the deck.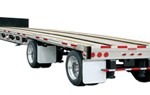 Folding goosenecks have become more popular due to their special features of folding to make a makeshift ramp at the front of the trailer that is powered hydraulic power. The only problem that the folding gooseneck faces, is that it has a weight limit of the ramp nonetheless they are capable of conveying heavy haul trucking. The limit of the ramp limit weight capacity should be checked to avoid any damages caused by passing on heavier loads than required weight.
Removable Goosenecks are ideal for heavy haul trucking and also for overweight-oversize trucking especially the unconventional shipment which they can be able to carry very tall load because of its varied deck features like the lowboys or drop decks, the goods can are practical and legalized to be transported within the cities.
Please call 1-877-742-2999 and get a freight quote.
Currently Providing Flatbed Service in:
Ontario, British Columbia, Manitoba, Quebec, New Brunswick, Nova Scotia, Saskatchewan