Among Manitoba freight companies choose Transportation Services.Ca
The Transportation Services.Ca also acts as a freight broker and forwarder, making international shipping available to you. Whatever the destination, the primary benefits remain the same: competitive rates, on-time delivery and premiere quality service.
The company owns a park of cargo transportation vehicles. Let's have a look, what you have at your service, becoming the Transportation Services.Ca client.
Flatbeds, or flatbed trucks, are trucks with open flat body (bed), used for shipping large cargo.
48′ flatbed is a truck with the trail 48 feet long, used for heavy haul transportation.
53′ flatbed is another heavy haul vehicle, with a bed 53 feet long, commonly used for long distances across the north America.
Extendable flat is a truck with a bed, that can be extended up to 85 feet. It comes in handy, when other trucks cannot carry an abnormal load.
Beam trailer is a goose neck trailer without a deck. Different kinds of deck can be attached in accordance with cargo dimensions and fit to limitations of roads and bridges.
Step decks, also called single drop trailers, are similar to standard flatbed truck. The key difference is freight height. Step decks carry load up to 10 feet 16 inches in height (standard flatbed can be loaded with cargo up to 8 feet 6 inches) and 8 feet 6 inches in width.
Extendable step decks (Marleys) are single drops, that can be extended and retracted to carry heavy haul.
Low profile step deck is another step deck truck variation for longer and heavier cargo, that is designed for safe passing under low bridges.
Double drops, or double deck trailers, are used primarily for overly high cargo – up to 11 feet 6 inches. They have 48 feet long deck, that is lower in the middle to solve gravity issues or height restrictions. The lower part, so called 'well', is 20 to 22 inches high. It allows to transport heavy haul without additional permits.
Extendable double drops are double drop trailers with additional lower decks, fixed in the middle.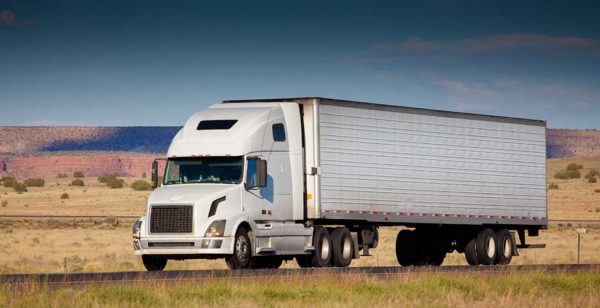 Lowboys, as the name suggests, are lower, than other trailers. They have two drops – one after gooseneck, the other before the wheels – and carry loads up to 12 feet high. Lowboys are great for transporting heavy equipment, like bulldozers.
Multi-axle trailers (up to 19 axles) carry heavy equipment, like nuclear reaction towers, gas turbines, windmills, etc.
Perimeter trailers are designed to transport loads of up to 150 tons.
RGN means removable gooseneck, that can be part of a lowboy, beam trailer, single or double drop deck, depending on the kind of deck attached.
Dry vans are commonly used for transportation of commercial goods.
102" wide van has increased capacity, in comparison with standard dry vans, that measure 8 feet and 6 inches in width.
High cube van carries larger product load, than 102 inches wide vans: 53 feet in length, 102 inches across with a total height of 13 feet 6 inches and 110 inches of internal height.
Logistics van is a popular option for stores to have goods delivered. They are not necessarily large; the size varies from 20 feet vans to 53 feet trailers.
Multi axle, tandem axle and tridem axle vans are used, when extra measures for secure freight transportation are required due to a larger weight. Additional axles provide extra support and equal weight distribution.
Vented van is basically a van with ventilation. It is used to move produce, and other goods, that need to 'breathe' during transportation.
Reefers are refrigerated or insulated trucks, that carry temperature sensitive cargo.
102" wide reefer is an increased capacity reefer, compared to the standard size truck.
High cube reefer measures 102 inches in width and 110 inches in height, providing with even bigger capacity.
Metal floor reefer is a refrigerator truck modification, that allows to maintain temperature at a lower cost.
Wooden floor reefer is a modification, that aids air circulation during transportation of temperature sensitive goods.
Briefly, Transportation Services.Ca has impressive fleet of transport.
What it means for you
Transportation Services.Ca is the one stop shop for all your shipping needs. You may not need the whole range of the company's transportation services, yet this scope of expertise is important for you. It means the company has resources to complete shipping diligently on time. Book your transport now and get a quote, by calling toll-free number: 1-866-737-7117 or filling the request form online.
Other services offered in Manitoba: