Shipping to Labrador
This is part of the company's commitment in helping small and mid-sized business enterprises, as well as some Fortune 500 companies for their transportation and hauling needs. We work hard to meet, or better yet exceed the expectations of our customers in the most affordable price available.
Being the nation's premiere cargo shipping company, we value the time of our customers and the integrity of their shipment. To do this, we only hire qualified personnel, well-trained drivers, and dedicated staff to the job. We see to it that the transit time is understood by each member and is being strictly followed. Our outmost customer service is also the reason is why we have satisfied customers from the United States of America and Mexico, and in Canada.
We currently offer flatbed trucking and reefer trucking services to our customers in Labrador, along with our expedited shipping and overnight shipping options. To provide the best customer service that we can give, we give close attention up to the smallest details of the consignment delivery. This includes using additional tools like tarp, twofold drops, step decks, and curtain sides, making sure that the goods reach its destination safely in the most economical way.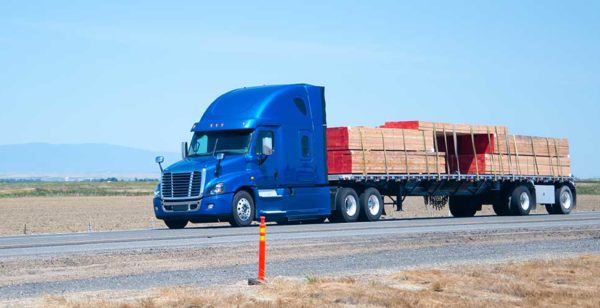 Our flatbed delivery service is always prepared to give up any kind of shipment, using the most appropriate truck transportation for every shipment the customer requires from us. We fully understand the critical aspects of heavy haul trucking, which include having oversized or overweight equipment that needed extra care, such as pre-cast concrete and heavy machinery.
Transportation Services.CA is also a certified in Hazmat trucking, which means we are authorized to deliver hazardous materials. We implement solid safety guidelines in transporting flammable and corrosive material, while considering the health and safety of our drivers and protecting the environment. Our trucks have special labels and signs to warn other drivers to be careful, in addition to the special training conducted to our drivers.
Our LTL trucking (or Less-Than-Truckload) service for our customers who need to ship their items to Labrador offers competitive prices that they can take advantage of. Our LTL freight carriers have sufficient skills and experience in handling shipping partial loads using the semi-trailers that are usually between 26 feet and 53 feet.
Our team inspects our reefer trailer every three months to make sure that the desired temperature is always met, whether the product is frozen or heated. We also closely monitor the temperature during the delivery because we understand the food we transport should still be fresh, as well as to preserve the quality of delicate products such as pharmaceuticals and adhesives.
Other services offered in Canada: