Shipping to Fort Mcmurray
This is because we value the time of customer and their trust to us, along with the affordable prices designed to support their shipping needs. To accomplish this, we do our best to uphold our name as the premier transportation provider in Canada, and extending our services in the United States of America and Mexico.
Once a client avails our freight services, we see to it that the transit time of its product or goods is strictly being followed and monitored. We strive hard to meet our customer's requirements, which include documentation, transportation permit management, and notification via electronic delivery. We make sure that only a team of professionals, committed staff, and well-trained drivers is performing our services in expedited trucking, expedited transportation, and overnight shipping.
For shipments from and to Fort Mcmurray, as well as other areas in Alberta, we currently offer flatbed trucking and reefer trucking services. By investing with the latest high quality equipment and tools and maintaining a good business relationship with various Canadian flatbed service companies, we can handle any type of shipment and transport all kinds of equipment.
In addition to the step decks and racks, we also utilize tool supports such as curtain sides, double drops, and tarps. This is to ensure that the cargo is safe and intact when it reaches its destination. Since we provide this service to all sorts of businesses, from small to medium-sized companies, we use flat bed trucks if heavy haul trucking is needed for transporting heavy materials or equipment.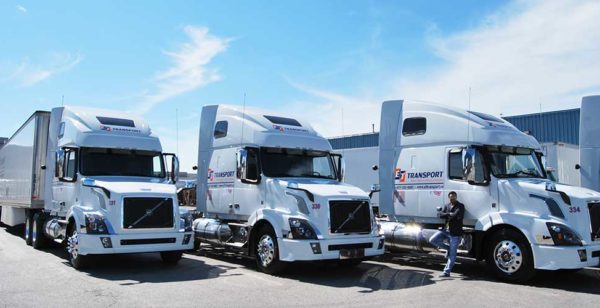 We also reefer trucking services to our customers in Fort Mcmurray. The four reefer trucks are 102 "wide reefers, high cube reefers, metal floor reefers, and the wooden floor reefers, which are merely being used to transport goods that need a lot of circulation. The first three reefers are also called temperature-controlled reefers, and are used to transport frozen goods and heated items.
Here at Transportation Services .CA, we are also engaged in LTL trucking (or Less-Than-Truckload) service, which is most applicable to customers with goods weighing from 151 to 20,000 lbs (68 and 9,072 kg). In fact, we provide low LTL rates on our shipping and trucking services through our skilled LTL carriers. We have the same commitment for our full truckload reefer trucking service.
We also provided Hazmat trucking service to our clients, where Hazmat being a short term for hazardous materials. Some of the materials are identified as corrosive and flammable, which is why we have drivers specifically trained for this task. We make sure that all the safety procedures are strictly being followed.
Other services offered in Canada: